Family History - James Henry (Garner) & Harriet Ann (Rule) Cox Family
(Great-grandparents of Fred Estes Seiber)

Seiber Paternal Line Fort Seybert Charles & Lydia Seiber Benjamin & Mary Ann Seiber Samuel & Elizabeth Seiber Philip & Catharina Seiber Charles & Rebecca Lones Lones to Seiber Line (Cavett Sta Massacre)
Cox Line of Descent Rule Line of Descent Top
Based on Information found in The Cox Family Record compiled by Molly Ann Cox (1892-1929)
James, Harriet, Bertha, William, Cynthia, Neighbor

James (c.a. 1895) Harriet

Bertha William (Bill) Cynthia

James Henry (Garner) Cox & Harriet (Rule) Cox
1836-1921 1840-1931


Cynthia Elizabeth
Martha Jane
George Henry
John Garner
Amanda Adelia
James Rule
William Matthew Dixon
Hugh Orestus
Arthur McDonald*
Oscar Leonal* (Twin)
Bertha Nancy Harriet Adelina
Joseph Frederick



1856-1936
1858-1938
1860-1937
1862-1862
1865-1888
1867-1964
1869-1924
1872-1935
1875-1953
1875-1877
1878-1957
1881-1965
James Henry (Garner) Cox married Harriet Ann Rule1 (probably in 1855). Their first child, Cynthia2, was born April 25, 1856. Over the next twenty-five years, the couple had eleven more children, all born at Ball Camp, Tennessee. James was a Baptist circuit rider and ministered to many congregations, including Ball Camp, Beaver Ridge, Lovell, Grigsby's Chapel, Chandler View, and Fairview. During the Civil War, James fought with the Union, although his half-brother Samuel Fleming fought for the South. Politically, James was a Republican and his wife, Harriet, was a Democrat. She was also a Methodist while he was a Baptist. Of their twelve children, the fourth (John) died in the same year he was born; another (Oscar, a twin) died at the age of two; and daughter Amanda died at twenty-three. Hugh lived to be 63; George, 75; Arthur, 78; Bertha, 79; Cynthia and Martha, 80; Joseph, 84; and James Rule (pictured below, right), 97. The seventh child, William (pictured below, left), was killed in Oklahoma at the age of 55. (See story below.)
1 Great-grandparents of Fred Estes Seiber
2 Grandmother of Fred Estes Seiber

The Cox Brothers Migrate to Texas and Oklahoma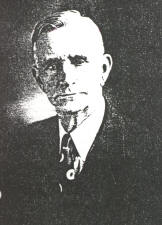 At some point in time (probably in the early 1880's), James and Harriet's eldest son George migrated to Concho County, Texas, where he met and married Ellen Kimbrough and established himself as a sheep herder. In the mid-to-late 1880s, George's brother, James Rule Cox (pictured right), moved to Texas to work for him, and by 1890, another brother,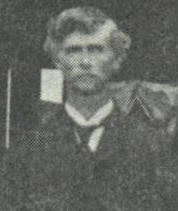 William Matthew Dixon Cox (pictured left), also left Concord and joined James in Texas to work for George. James Rule and William Matthew later hired out to Ellen's father, R. H. Kimbrough, and worked for him for a year. During that time (on January 15, 1891), James Rule Cox married Ellen's sister, Birdie Kimbrough (pictured below right). Soon afterwards, the brothers outfitted two wagons and teams and moved to Pickens County, Indian Territory (later to become Oklahoma). There, they first settled at the foothills of the Yellow Hills (Durwood) just seven miles east of Ardmore, Indian Territory. The would-be settlers dug a well, built a barn, started on a house house, and took a contract to haul corn to market in the fall; but they soon decided that this was not the place for them. Birdie's sister Fannie, who obviously had come with them from Texas, had married a man named Paschall Wall and lived nearby. They, too, decided to look for another place. Fannie and Pas went north while the others moved south (a mile south of Hoxbar--now Carter County, OK). There, the two brothers worked for a landowner, W. E. Landrum, and they farmed for themselves land which they rented from him.
Later, James moved his family into the community of Hoxbar to have his children near the school. He bought a store there, and was appointed postmaster of Pickens County, Indian Territory. Bill, following brother into Hoxbar, worked in the store and lived with James and his family. In addition to operating the store, the brothers also farmed and raised cattle on rented or leased Indian lands. At some point, their brothers Hugh, Arthur, and Joseph and their families all joined James and Bill in Hoxbar.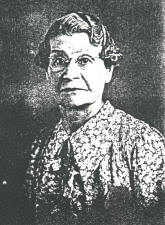 Bill remained a bachelor and eventually moved into a room attached to the west side of his brother's store building. It was there, in the store at Hoxbar, Indian Territory, that William Matthew Dixon Cox was killed.
It was shortly after dusk on May 25, 1924. Bill had finished his supper and was sitting just inside the door, writing a letter to his mother. Suddenly, two boys wearing black stockings over their faces appeared at the open door and demanded the store's money. Instead of yielding to their demand, Bill kicked the door shut. One of the boys then fired a shotgun blast through the closed door and hit Bill in the chest, mortally wounding him. The two boys fled the scene without the money.
Ernest (Buster) Cox, son of Hugh, lived a few yards away with his wife Molene and their family. Molene's sister and family (the Bennings) had been visiting and were preparing to leave when the shot was fired. Thinking they had heard someone rabbit hunting or a car backfiring, they ignored the blast. Buster and Molene routinely accompanied the Bennings to their car, and as they were walking back toward their house, they heard Bill calling out for Buster. When they approached the wounded Bill, he mistakenly told them that he had been shot by a Negro (because of the black stockings and the near darkness). Buster quickly called for James and Hugh, and the three men hurried off for the hospital at Ardmore with the mortally wounded Bill in the back seat of the car. Their efforts were futile, however, for Bill had died by the time they reached the hospital.
Exactly one week from the day of the shooting, Sheriff Buck Garrett had two suspects in custody. The men were tried in Judge Freeman's court, found guilty, and sentenced to death. Both James and Hugh intervened, however, and asked that the sentence be changed to life imprisonment. The judge agreed, and the men served many years in prison. One was later killed while attempting to escape (as a trusty), and the other was finally paroled.

Pictured Above Left: William Matthew Dixon Cox (granduncle of Fred Estes Seiber)
Pictured Above Right: James Rule Cox (granduncle of Fred Estes Seiber) and wife Birdie Belle Kimbrough Cox - probably c.a. 1935
James Rule Cox and Birdie Belle had eight children. The eldest, Molly Ann, compiled the Cox Family Record in 1974 in honor of her dad.
---
ABOVE: Harriet Ann (Rule) Cox and James Henry (Garner) Cox c.a. 1910
(great-grandparents of Fred Estes Seiber)


RIGHT: Standing: Cynthia Elizabeth Cox Estes (74), Lydia Adiele Estes Seiber (50)
Seated: Harriet Ann (Rule) Cox (90), Thelma Crystell Seiber Collins (22),
Ona Elizabeth Collins (1 month) Summer 1930
(Relationship to Fred Estes Seiber: Grandmother, Mother; Great-grandmother, Sister, Neice)
---
Cox Line of Descent through James Henry (Garner) Cox to Lydia Estes (Seiber), mother of Fred Estes Seiber Return to Top
(Henry) (John) Cox & Jeanette Mabry
(George)

George Henry Cox & Cynthia Garner
1814-1841 1816-1846
James Henry (Garner) Cox & Harriet Rule
1836-1921 1840-1931
Cynthia Elizabeth Cox & Louis Casbianca Estes
1856-1936 1848-1905
2/12/1874

Thomas
John
Abram
GEORGE HENRY
James "Red"
Joseph
Mary Ann

1808-
1810-
1812-
1814-1841
1816-
1818-
1821-

JAMES HENRY
John Garner

1836-1921
1838-1841
CYNTHIA ELIZABETH
Martha Jane
George Henry
John Garner
Amanda Adelia
James Rule
William Matthew Dixon
Hugh Orestus
Arthur McDonald*
Oscar Leonal* (Twin)
Bertha Nancy Harriet
Adelina
Joseph Frederick
1856-1936
1858-1938
1860-1937
1862-1862
1865-1888
1867-1964
1869-1924
1872-1935
1875-1953
1875-1877
1878-1957

1881-1965
Louis Kenneth
James Henderson
Harriett Lettie
LYDIA ADEILE*
Lola Aliene* (Twin)
George Homer
John Lloyd
1874-1928
1876-1955
1878-1948
1880-1968
1880-1880
1882-1953
1884-1954
Little is known of (John or Henry or George) Cox and his wife Jeanette (Mabry?). The names of their children, as listed above, were found on a loose sheet of paper in the Bible of the Reverend James Henry (Garner) Cox after his death.
George Henry Cox and Cynthia Garner were married around 1835. They had only two children, James and John. In 1941, George Henry died at the early age of twenty-seven, and his younger son John died at the age of three. The cause of death is not known for either. It is known that after the death of his father, little James Henry was taken and reared by his uncle, James "Red" Cox. They moved from North Carolina to Texas to Missouri, and finally, returned to settle in Tennessee. James's mother, Cynthia, had married Moses Fleming soon after the death of George Henry. She and Moses had two children, Samuel, born in 1842 and Rachael, born in 1844. Cynthia herself then died in 1846 at the age of thirty.
James Henry (Garner) Cox married Harriet Ann (Rule) Cox around 1855. In the years from 1856 through 1881, the couple had twelve children. James became a Baptist minister and circuit rider, and at various times, he ministered to congregations at Ball Camp, Beaver Ridge, Lovell, Grigsby's Chapel, Chandler's View, and Fairview. Politically, James was a Republican, and he fought with the Union during the Civil War, while his half-brother, Samuel Wright Flemming, fought with the South. Although James was a Baptist and a Republican, his wife Harriett was a Methodist and a Democrat. James lived to be 85 and Harriett, 91.
---
Rule Line of Descent through Harriet Ann Rule Cox to Lydia Estes (Seiber), mother of Fred Estes Seiber Return to Top
George Rule (Ruhl) & Rosanna (?)

Michael Rule & Elizabeth Dill
1788-1855 1790-1849
Henry Rule & Nancy Tarwater
1813-1911 1813-1910
Harriett Ann Rule & James Henry (Garner) Cox
1836-1921 1840-1931
George Jr
Carrie
Rosanna
Christina
Jacob
MICHAEL
Peter
HENRY
Mary
Andrew
Frederick
Anna
Rosanna
Joel
Elizabeth
Sarah
Matilda
Michael
1811-
1813-1911
1814-
1815-
1817-
1819-
1820-
1824-
1826-
1831-1884
1831-1909
1833-
William
James
Martha
HARRIET ANN
Portena Adeline
Matthew Andrew
Amanda Elizabeth
Nancy Jane

1835-1927
1837-1920
1838-1919
1840-1931
1842-1879
1844-1912
1846-1864
1849-1925
CYNTHIA ELIZABETH
Martha Jane
George Henry
John Garner
Amanda Adelia
James Rule
William Matthew Dixon
Hugh Orestus
Arthur McDonald*
Oscar Leonal* (Twin)
Bertha Nancy Harriet
Adelina
Joseph Frederick.
1856-1936
1858-1938
1860-1937
1862-1862
1865-1888
1867-1964
1869-1924
1872-1935
1875-1953
1875-1877
1878-1957

1881-1965
Space